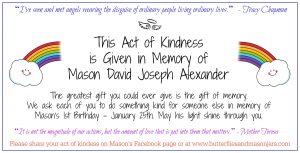 At 9 months most parents are planning their baby's 1st birthday. We're planning Mason's 1st birthday in Heaven and we hope that you'll celebrate with us. I know many of you would have not only attended but given Mason a gift. We ask this year that you consider giving an Act of Kindness in his memory.
     Here are a few ideas but we're looking forward to hearing all of the fantastic ideas and generous ways you'll give back… donate to a food bank, donate a book (be sure to add Mason's name) to a Library, school or hospital, help at a food kitchen for the homeless, bake cookies for your local police/firemen/hospital ER, visit or help out an elderly neighbor with yard work, a meal or shopping, donate a bear to another angel family, donate to a cause or foundation that is meaningful to you in Mason's name (we suggest Alexandra's House, SIDS Resources, Midwest Forster Care & Adoption, Solace House or Convoy of Hope,) give stuffed animals to your local children's hospital, dedicate a day to random acts of kindness in honor of our angel, donate gifts you may have been purchasing for Mason to a child in need of the same age, adopt a child or family for Christmas.
Please remember to share with us your act of kindness on Mason's Birthday- January 25th so that we can see the impact that Mason's life has made. Feel free to print out this kindest card (or contact us for one) and give it with your act so others can know about Mason too.
Please leave a comment and let us know what kindness gift you have given.